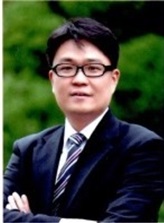 Hyung-Sup Jung
Associate Professor
21 Century Building # 320
+82-2-6490-2892
hsjung@uos.ac.kr
Dr. Hyung-Sup Jung received the B.S. in geology in 1996, the M.S. degree in geophysics in 1998 and the Ph.D. degree in remote sensing in 2007 from Yonsei University, Seoul, Korea. He is currently a Professor with the Department of Geoinfomatics at the University of Seoul.

Dr. Hyung-Sup Jung has been serving as an Editor-in-Chief of Korean Journal of Remote Sensing since 2015, and an associate editor of the IEEE Geosience and Remote Sensing Letters and Arabian Journal of Geosciences as an Associate Editor. He has been serving as an editorial board member of Remote Sensing since 2019.

Dr. Hyung-Sup Jung is currently a Senior Member of IEEE (M'07), a member of the American Geophysical Union (AGU), the American Society of the American Society of Photogrammetry and Remote Sensing (ASPRS), the Korean Society of Remote Sensing (KSRS) and the Korean Society of Surveying Geodesy, Photogrammetry and Cartography (KSGPC), and a life member of the Korea Spatial Information Society (KSIS).

His research interests cover remote sensing applications to natural hazards and forestry, radar interferometry, sensor modeling, and satellite image processing:
1) Remote sensing application to natural hazards – He has been trying to apply state-of-art remote sensing techniques to the natural hazards such as earthquake, volcanic eruption, tectonic movement, subsidence, climate change, flood, wildfire, etc. i) Coal mining subsidence in Korea, the tectonic movement at the southern end of the San Andreas Fault (SAF) zone in USA, ii) ground subsidence in Los Angeles basin, USA, iii) dynamic volcano deformations of Seguam, Okmok and Augustine volcanoes, Alaska, USA have been observed by using the MTInSAR method. A small co-seismic deformation field of the 19 September 2004 Huntoon valley earthquake has been measured by improving the MTInSAR. Three-dimension surface deformations of Kilauea volcano activities have been precisely measured by integrating MAI into InSAR methods. He has been studying on the flood detection from SAR satellite observations, the wildfire detection from middle wavelength infrared (MWIR) and TIR of GEO KOMPSAT-2A (GK-2A) satellite images, the climate change from multi-temporal satellite images, etc.
2) Forestry remote sensing applications – He has been trying to apply remote sensing techniques to forest applications. He has developed an algorithm i) detecting trees in the forest, ii) estimating the tree height, and iii) determining the horizontal and vertical structures of the forest using full-waverform lidar data in Geumgang pine forest. He has also classified forest vertical structure from aerial orthophoto and discrete lidar data using an artificial neural network (ANN). He is now performing a feasibility test to classify artificial forest and natural forest using optical and radar satellite images as well as the 12m TerraSAR-X derived DSM and map-derived DTM using machine learning techniques. Moreover, he is now studying on a feasibility test to detect sick trees in the forest from aerial and drone optical images, which have a ground resolution of ~10 cm, using deep learning.
3) Radar interferometry – Advanced radar interferometric techniques including multiple-aperture interferometry (MAI), multi-temporal SAR interferometry (MTInSAR) and MAI-based ionospheric correction have been developed. He has proposed an improved MAI method and then the precise 3D surface displacement of 2 to 5 cm for X, C and L bands has been achieved by integrating MAI into conventional InSAR. And he has also proposed more improved MAI methods i) to measure complex and large deformations and ii) to observe precise 3D surface deformation of less than 1 cm from X-band SAR interferometry. For MTInSAR, he has developed a modified MTInSAR method in the basis of the small baseline subset (SBAS) algorithm and successfully applied it to the Earth surface's deformation measurements such as volcanic activities, urban subsidence, etc. Finally, an MAI-based ionospheric correction has been also developed by him. Its correction performance is more than 100 times better than other methods. He is still improving the method.
4) Sensor modeling – He has developed the new pushbroom sensor model of line-of-sight (LOS) vector adjustment model and tested the accuracy performance of the sensor model using SPOT 5 stereo images. And he has also introduced a distortion error, which is main error contribution of the model. From the error analysis, it has been proven that the model error is less than 0.1 pixels and the model has a high accuracy performance. Recently he has proposed an automated bias compensation approach for pushbroom modeling using a global digital elevation model (DEM). He is now studying on the radar sensor modeling.
5) Satellite image processing – The detection and restoration of defective lines in the SPOT 4 short wavelength infrared (SWIR) image has been studied. In his research, the defective lines were divided into four types and recovered by using different methods according to the defective line types. The high performance of the method has been achieved by using three SPOT 4 images and synthetic images. And he has also proposed an efficient mosaic algorithm considering seasonal variation and successfully applied it to KOMPSAT-2 satellite image. Recently he has been focusing on the development of multi-sensor fusion methods. He has proposed an efficient multi-sensor fusion method of Landsat 8 panchromatic (PAN) and thermal infrared (TIR) images. He is now focusing on the fusion of optic and SAR images and SAR and thermal images.


Education
Ph.D., Remote Sensing, Yonsei University, Seoul, Korea, 2/2007- 9/1998M.S., Geophysics, Yonsei University, Seoul, Korea, 9/1996 – 8/1998B.S., Geology, Yonsei University, Seoul, Korea, 3/1992 - 8/1996

Academic Appointments
Education
• Ph.D., Remote Sensing, Yonsei University, Seoul, Korea, 9/1998 - 2/2007
• M.S., Geophysics, Yonsei University, Seoul, Korea, 9/1996 - 8/1998
• B.S., Geology, Yonsei University, Seoul, Korea, 3/1992 - 8/1996

Academic Appointments
• Professor, Dept. of Geoinformatics, The University of Seoul, Seoul, Korea, March 2018 – present
• Vice Provost, The University of Seoul, Seoul, Korea, March 2017 – February 2019
• Chair, Dept. of Geoinformatics, The University of Seoul, Seoul, Korea, September 2015 – February 2017
• Vice Dean, College of Urban Sciences, The University of Seoul, Seoul, Korea, March 2013 – February 2015
• Visiting Scientist, Cascade Volcano Observatory, USGS, December 2011 – June 2012
• Assistant Professor, Dept. of Geoinformatics, The University of Seoul, Seoul, Korea, March 2009 – February 2013

Academic Activities & Memberships
• IEEE, Senior Member, 2009-present (SM'16)
• Member, American Geophysical Union (AGU), 2007 - present
• Member, American Society of Photogrammetry and Remote Sensing (ASPRS), 2007 – present
• Member of the board of director, the Korean Society of Economic and Environmental Geology, 2013 - present
• Life Member, Korea Spatial Information Society, 2008 – present
• Member, Korean Society of Surveying Geodesy, Photogrammetry and Cartography, 2008 – present

Served as an editor for the journals:
• Editor-in-Chief, Korean Journal of Remote Sensing, 2017 – present
• Associate Editor, IEEE Geoscience and Remote Sensing Letters, 2016 – present
• Associate Editor, Arabian Journal of Geosciences, 2019 – present
• Editorial Board Member, Remote Sensing, 2019– present.


Professional Appointments
2013 - present, Member of Editorial Board, The Korean Society of Remote Sensing
2013 - present, Member of Technical Expert, The Korean Society of Economic and Environmental Geology


PUBLICSTIONS
• Researchgate: https://www.researchgate.net/profile/Hyung-Sup_Jung
• ORCID: https://orcid.org/0000-0003-2335-8438

International Journal Articles
• Kim, J.-C., Jung, H.-S., and Lee, S., 2019, Spatial Mapping of the Groundwater Potential of the Geum River Basin Using Ensemble Models Based on Remote Sensing Images, Remote Sensing, v.11(19), 2285.
• Zhu, W., Jung, H.-S., and Chen, J.-Y., 2019, Synthetic Aperture Radar Interferometry (InSAR) Ionospheric Correction Based on Faraday Rotation: Two Case Studies, Applied Sciences, v.9(18), 3871.(Corresponding author)
• Chae, S.-H., Lee, W.-J., Baek, W.-K., and Jung, H.-S., 2019, An Improvement of the Performance of SAR Offset Tracking Approach to Measure Optimal Surface Displacements, IEEE Access., v. 7, pp. 131627 - 131637. (Corresponding author)
• Jung, H.-S., Zhang, L., and Hong, S.-H., 2019, Advanced Sensor Technologies in Geospatial Sciences and Engineering, Journal of Sensors.
• Park, S.-H., Jung, H.-S., Lee, M.-J., Lee, W.-J., and Choi, M.-J., 2019, Oil Spill Detection from PlanetScope Satellite Image: Application to Oil Spill Accident near Ras Al Zour Area, Kuwait in August 2017, Journal of Coastal Research.
• Lee, Y.-S., Park, S.-H., Cho, Y.-H., Lee, W.-J., Jung, H.-S., Lee, M.-J., and Kim, S.-H., 2019, Classification of Halophytes from Airborne Hyperspectral Imagery in Ganghwa Island, Korea Using Multilayer Perceptron Artificial Neural Network, Journal of Coastal Research. (Corresponding author)
• Ryu, J.-H., Jung, H.-S., Lee, S., and Cui, T., 2019, Special Issue on "Advances in Remote Sensing and Geoscience Information Systems of the Coastal Environments". Journal of Coastal Research. (Corresponding author)
• Jung, H.-S., Ryu, J.-H., Park, S.-E., Lee, H.-Y., Park, N.-W., 2019, Special Issue on Selected Papers from the "International Symposium on Remote Sensing 2018". Remote Sensing, 11(12), 1439.
• Jung, H.-S., Lee, S.-L., 2019, Special Issue on Machine Learning Techniques Applied to Geoscience System and Remote sensing. Applied Sciences, 9(12), 2446.
• Lee, S., Lee, M.-J., Jung, H.-S., and Lee, S., 2019, Landslide susceptibility mapping using Naïve Bayes and Bayesian network models in Umyeonsan, Korea. Geocarto International.
• Hwang, J.-I. and Jung, H.-S. 2018. Automatic Ship Detection Using the Artificial Neural Network and Support Vector Machine from X-Band Sar Satellite Images. Remote Sensing. v. 10(11), 1799 (Corresponding author).
• Pradhan, B., Jung, H.-S. and Beydoun, G. 2018. Systems and Sensors in Geoscience Applications. Journal of Sensors. 2018.
• Baek, W.-K., Jung, H.-S. and Chae, S.-H. 2018. Feasibility of ALOS2 PALSAR2 Offset-Based Phase Unwrapping of SAR Interferogram in Large and Complex Surface Deformations. IEEE Access. (Corresponding author).
• Kim, D. and Jung, H.-S. 2018. Mapping Oil Spills from Dual-Polarized SAR Images Using an Artificial Neural Network: Application to Oil Spill in the Kerch Strait in November 2007. Sensors, v. 18, 2237 (Corresponding author).
• Kim, J.-C., Jung, H.-S. and Lee, S. 2018. Groundwater productivity potential mapping using frequency ratio and evidential belief function and artificial neural network models: focus on topographic factors. Journal of Hydroinformatics.
• Boncori J.P.M., ..., Jung, H.-S., et. al. 2018. Intercomparison and validation of SAR-based ice velocity measurement techniques within the Greenland Ice Sheet CCI project, Remote Sensing.
• Jung, H.-S., Lee, S. and Zhang, L. 2018. Sensor Technologies and Methods for Geoinformatics and Remote Sensing, Journal of Sensors.
• Jo, M., Jung, H.-S. and Chae, S.-H. 2018. Advances in three-dimensional deformation mapping from satellite radar observations: application to the 2003 Bam earthquake. Geomatics, Natural Hazards and Risk (Corresponding author).
• Lee, S., Lee, S., Lee, M.-J. and Jung, H.-S. 2018. Spatial Assessment of Urban Flood Susceptibility Using Data Mining and Geographic Information System (GIS) Tools. Sustainability, v. 10(3), 648 (Corresponding author).
• Jung, H.-S., Hong. S.-M. 2017. Mapping three-dimensional surface deformation caused by the 2010 Haiti earthquake using advanced satellite radar interferometry. PLoS ONE, v. 12(11), e0188286.
• Kwon, S.-K., Jung, H.-S., Baek, W.-K. and Kim, D. 2017. Classification of Forest Vertical Structure in South Korea from Aerial Orthophoto and Lidar Data Using an Artificial Neural Network. Applied Sciences, v. 7, (Corresponding author).
• Hwang, J.-I., Chae, S.-H., Kim, D., and Jung H.-S. Application of Artificial Neural Networks to Ship Detection from X-band Kompsat-5 Imagery. Applied Sciences (Corresponding author).
• Jung, H.-S. and Hong, S.-M. Remarks on Correcting Ionospheric Distortions in L-band Radar Interferometry. Geocarto Int.
• Park, S.-H., Jung, H.-S., Choi, J.-W. and Jeon, S. 2017. A quantitative method to evaluate the performance of topographic correction models used to improve land cover identification. Advances in Space Research.
• Lee, S., Lee, M.-J., and Jung, H.-S. 2017. Data Mining Approaches for Landslide Susceptibility Mapping in Umyeonsan, Seoul, South Korea. Applied Sciences, v. 7, 683.
• Jo, M.-J., Jung, H.-S., and Yun, S.-H. 2017, Retrieving Precise Three-dimensional Deformation on the 2014 M6.0 South Napa Earthquake by Joint Inversion of Multi-sensor SAR. Scientific Reports, v. 7, 5485 (Corresponding author).
• Kim, J.-C., Lee, S., Jung, H.-S., and Lee, S. 2017, Landslide susceptibility mapping using random forest and boosted tree models in Pyeong-Chang, Korea. Geocarto International.
• Chae, S.-H., Lee, W.-J., Jung, H.-S., and Zhang, L. 2017, Ionospheric Correction of L-Band SAR Offset Measurements for the Precise Observation of Glacier Velocity Variations on Novaya Zemlya. IEEE Journal of Selected Topics in Applied Earth Observations and Remote Sensing (Corresponding author).
• Lee, S., Kim, J.-C., Jung, H.-S., Lee, M.J., and Lee, S. 2017, Spatial prediction of flood susceptibility using random-forest and boosted-tree models in Seoul metropolitan city, Korea: Geomatics, Natural Hazards and Risk. http://dx.doi.org/10.1080/19475705.2017.1308971
• Lee, W.-J., Lu, Z., Jung, H.-S., and Ji, L. 2017, Measurement of small co-seismic deformation field from multi-temporal SAR interferometry: application to the 19 September 2004 Huntoon Valley earthquake: Geomatics, Natural Hazards and Risk. http://dx.doi.org/10.1080/19475705.2017.1310764 (Corresponding author).
• Lee, S. Hong, S.-M., and Jung, H.-S. 2017, GIS-based groundwater potential mapping using artificial neural network and support vector machine models: the case of Boryeong city in Korea: Geocarto International.
• Jo, M.-J., Jung, H.-S., and Won, J.-S. 2017, Measurement of precise three-dimensional volcanic deformations via TerraSAR-X synthetic aperture radar interferometry: Remote Sensing of Environment, v. 192, pp. 228-237 (Corresponding Author).
• Lee, S. Hong, S.-M., and Jung, H.-S. 2017, A Support Vector Machine for Landslide Susceptibility Mapping in Gangwon Province, Korea: Sustainability, v. 9, 48.
• Zhu, W., Ding, X.-L., Jung, H.-S. and Zhang, Q. 2017, Mitigation of ionospheric phase delay error for SAR interferometry: an application of FR-based and azimuth offset methods, Remote Sensing Letters, v. 8(1), 58-67.
• Zhu, W., Ding, X.-L., Jung, H.-S., Zhang, Q., Zhang, B.-C. and Qu, W. 2016, Investigation of ionospheric effects on SAR Interferometry (InSAR): a case study of Hong Kong: Advances in Space Research, v. 58(4), 564-576.
• Park, S.-H., Jung, H.-S. and Lee, M.-J. 2016, Spatiotemporal Analysis of Snow Cover Variations at Mt. Kilimanjaro Using Multi-temporal Landsat Images during 27 years: Journal of Atmospheric and Solar-Terrestrial Physics, v. 143-144, 37-46.
• Oh, K.-Y. and Jung, H.-S., 2016, Automated Bias-Compensation Approach for Pushbroom Sensor Modeling Using Digital Elevation Model: IEEE Transactions on Geoscience and Remote Sensing, v. 54(6), 3400-3409 (Corresponding Author).
• Qu, F., Lu, Z., Poland, M., Freymueller, J., Zhang, Q. and Jung, H.-S., 2015, Post-Eruptive Inflation of Okmok Volcano, Alaska, from InSAR, 2008-2014: Remote Sensing, v. 7(12), 16778-16794.
• Jo, M-J. Jung, H.-S. and Won, J.-S., 2015, Detecting the Source Location of Recent Summit Inflation via Three-Dimensional InSAR Observation of Kilauea Volcano: Remote Sensing, v. 7(11), 14386-14402. (Corresponding Author).
• Jo, M-J. Jung, H.-S., Won, J.-S., and Lundgren, P., 2015, Measurement of Three-Dimensional Surface Deformation by Cosmo-SkyMed X-band Radar Interferometry: Application to The March 2011 Kamoamoa Fissure Eruption, Kilauea Volcano, Hawai`i: Remote Sensing of Environment, v. 169, pp. 176-191. (Corresponding Author).
• Jung, H.-S., Lu, Z., Shepherd, A. and Wright, T., 2015, Simulation of the SuperSAR Multi-Azimuth Synthetic Aperture Radar Imaging System for Precise Measurement of Three-Dimensional Earth Surface Displacement: IEEE Transactions on Geoscience and Remote Sensing, v. 53, pp. 6196-6206.
• Lee, W.-J., Jung, H.-S. and Lu, Z., 2015, Application of ERS and Envisat Cross-Interferometry to Generation and Accuracy Assessment of Digital Elevation Model over Northern Alaska: Journal of Applied Remote Sensing, v. 9(1), pp. 096065-1~096065-15. (Corresponding Author).
• Jung, H.-S. and Lee, W.-J., 2015, An Improvement of Ionospheric Phase Correction by Multiple-Aperture Interferometry: IEEE Transactions on Geoscience and Remote Sensing, v. 53(9), DOI:10.1109/TGRS.2015.2413948. (SCI)
• Choi, J.-W., Jung, H.-S., and Yun, S.-H., 2015, An Efficient Mosaic Algorithm Considering Seasonal Variation: Application to KOMPSAT-2 Satellite Images: Sensors, v.15(3), pp. 5649-5665. (corresponding, SCIE)
• Jung, H.-S., Yun, S.-H. and Jo, M.-J., 2015, An Improvement of Multiple Aperture SAR Interferometry Performance in the Presence of Complex and Large Line-of-Sight Deformation: IEEE Journal of Selected Topics in Applied Earth Observations and Remote Sensing, v. 8(4), pp. 1743-1752, DOI:10.1109/JSTARS.2015.2399249. (corresponding, SCIE)
• Jo, M.-J., Jung, H.-S., Won, J.-S., Poland, M. P., Miklius, A. and Lu, Z., 2015, Measurement of slow-moving along-track displacement from an efficient multiple-aperture SAR interferometry (MAI) stacking: Journal of Geodesy, v. 89(5), 411-425. (corresponding, SCI)
• Jung, H.-S., and Park, S.-H., 2014, Multi-Sensor Fusion of Landsat 8 Thermal Infrared (TIR) and Panchromatic (PAN) Images: Sensors, v.14(12), pp.24425-24440
• Jung, H.-S., Lee, W.-J., and Zhang, L., 2014, Theoretical Accuracy of Along-Track Displacement Measurements from Multiple-Aperture Interferometry (MAI): Sensors, v.14(9), pp.1703-1724.
• Liu, Z., Jung, H.-S., and Lu, Z., 2014, Joint correction of ionosphere noise and orbital error in L-band SAR interferometry of interseismic deformation in southern California: IEEE Transactions on Geoscience and Remote Sensing, v.52(6), pp.3421-3427.(corresponding, SCI)
• Zhang, L., Ding, X., Lu, Z., Jung, H.-S., Hu, J., and Feng, G., 2014, A Novel Multi-Temporal InSAR Model for Joint Estimation of Deformation Rates and Orbital Errors: IEEE Transactions on Geoscience and Remote Sensing, v.52(6), pp.3529-3540. (SCI)
• Liu, Z., Jung, H.-S., and Lu, Z., 2013, Joint correction of ionosphere noise and orbital error in Lband SARinterferometry of interseismic deformation in southern California: IEEE Transactions on Geosciences and Remote Sensing, v.52(6), pp.3421-3427 (corresponding, SCI).
• Zhang, L., Ding, X., Lu, Z., Jung, H.-S., Hu, J., and Feng, G., 2013, A Novel Multi-Temporal InSAR Model for Joint Estimation of Deformation Rates and Orbital Errors: IEEE Transactions on Geosciences and Remote Sensing, v.52(6), pp.3529-3540 (SCI)
• Jung, H.-S., Lee, D.-T., Lu, Z., and Won, J. S., 2013, Ionospheric Correction of SAR Interferograms by Multiple-Aperture Interferometry: IEEE Transactions on Geosciences and Remote Sensing, v. 51(5), pp. 3191-3199. (SCI)
• Kim, D.-J., Hwang, B., Chung, K. H., Lee, S. H., Jung, H.-S., Moon, W., 2013, Melt Pond Mapping with High-Resolution SAR: A First View: Proceedings of the IEEE, v. 101(3), pp. 8161-8181. (SCI)
• Jung, H.-S., Lu, Z., Zhang, L., 2013, Feasibility of Along-Track Displacement Measurement from Sentinel-1 Interferometric Wide-Swath Mode: IEEE Transactions on Geosciences and Remote Sensing, v. 51(1), pp. 573-578 (SCI)
• Lee, C.-W., Lu, Z., Won, J.-S., Jung, H.-S., and Dzurisin, D., 2013, Dynamic deformation of Seguam Island, Alaska, 1992-2008, from multi-interferogram InSAR processing: Journal of Volcanology and Geothermal Research, v.260, pp.43-51. (SCI)
• Lee, C.-W., Lu, Z. and Jung, H.-S., 2012, Simulation of time series surface deformation to validate multi-interferogram InSAR processing technique: International Journal of Remote Sensing, v. 33(22), pp. 7075-7087. (corresponding, SCI)
• Zhang, L., Lu, Z., Ding, X., Jung, H.-S., and Feng, G., 2012, Mapping ground surface deformation using temporarily coherent point SAR interferometry: Application to Los Angeles Basin: Remote Sensing of Environment, v.117, pp. 429-439. (SCI)
• Choi, J.-K., Won, J.-S., Lee, S., Kim, S.-W., Kim, K.-D. and Jung, H.-S., 2011, Integration of GIS and SAR interferometry for a coal mine subsidence hazard map in Taebaek, Korea: International Journal of Remote Sensing, v. 32(23), pp8161-8181. (SCI)
• Jung, H.-S., Lu, Z., Won, J.-S., Poland, M., and Miklius, A., 2011, Mapping three-dimensional surface deformation by combining multiple aperture interferometry and conventional interferometry: application to the June 2007 eruption of Kīlauea Volcano, Hawaii: IEEE Geosciences and Remote Sensing Letters, v.8(1), pp. 34-38. (SCI)
• Lee, C.-W., Lu, Z., Jung, H.-S., Won, J.-S., and Dzurisin, D., 2010, Surface Deformation of Augustine Volcano (Alaska), 1992-2005, From Multiple-Interferogram Processing Using a Refined SBAS InSAR Approach: USGS Professional Journal, The 2006 Eruption of Augustine Volcano, Alaska, Ch. 18, pp. 453-465.
• Jo, M.-J., Won, J.-S., Kim, S.-W., and Jung, H.-S., 2010, A Time-series SAR Observation of Surface Deformation at the Southern End of the San Andreas Fault Zone: Geosciences Journal, v.14(3), pp.277-287. (SCI)
• Jung, H.-S., Won, J.-S., Kang, M.-H., and Lee, Y.-M., 2010, Detection and Restoration of Defective Lines in the SPOT4 SWIR Band: IEEE Transactions on Image Processing, v. 19(8), pp. 2143-2156. (SCI)
• Sajeev, K., Jeong, J., Kwon, S., Kee, W.-S., Kim, S. W., Komiya, T., Itaya, T., Jung, H.-S., and Park, Y., High P-T granulite relicts from the Imjingang belt, South Korea: Tectonic significance: Gondwana Research, v. 17(1), pp. 75-86.
• Jung, H.-S., Won, J.-S., and Kim, S.-W., 2009, An Improvement of the Performance of Multiple Aperture SAR Interferometry (MAI): IEEE Transactions on Geosciences and Remote Sensing, v. 47(8), pp.2859-2869. (SCI)
• Baek, J., Kim, S.-W., Park, H.-J., Jung, H.-S., Kim, K.-D., Kim, J.-W., 2008, Analysis of ground subsidence in coal mining area using SAR interferometry: Geosciences Journal, v. 12, pp. 277-284. (SCI)
• Jung, H.-S., and Won, J.-S., 2008, Formulation of distortion error for the line-of-sight (LOS) vector adjustment model and its role in restitution of SPOT imagery: ISPRS Journal of Photogrammetry and Remote Sensing, v. 63(3), pp. 227-239. (SCI)
• Jung, H.-S., Kim, S.-W., Won, J.-S., and Lee, D.-C., 2007, Line-of-Sight (LOS) vector adjustment model for geopositioning of SPOT 5 stereo images: Photogrammetric Engineering and Remote Sensing, v. 73(11), pp. 1267-1276. (SCI)
• Jung, H.-C., Kim, S.-W., Jung, H.-S., Min, K.-D., and Won, J.-S., 2007, Satellite observation of coal mining subsidence by persistent scatterer analysis: Engineering Geology, v. 92, pp.1-13. (SCI)
• Hong, S.-H., Jung, H.-S., and Won, J.-S., 2006, Extraction of ground control points (GCPs) from synthetic aperture radar image and SRTM DEM: International Journal of Remote Sensing, v. 27(18), pp.3813-3829. (SCI)



Patents
• Jung, H.-S., Choi, J.-W., Oh, K.-Y., Lee, K.-J., and Kim, Y.-S.: "Mosaic method for multi-time images", Korea patent registration No. 10-1514143, referred on April 15, 2015.
• Jung, H.-S., Lee, D.-T., Lu, Z., Won, J.-S., Park., Y.-J., Choi, J.-W., and Goo, S.-H.: "Method for correction of ionospheric distortion of synthetic aperture radar interferogram and apparatus thereof", Korea patent registration No. 10-1490981, referred on Jan 02, 2015.
• Jung, H.-S., and Park, S.-H.: "Method for estimation of surface temperature lapse rate Using thermal infrared images", Korea patent application No. 2013-0066727, referred on June 11, 2013.
• Jung, H.-S., Lee, W.-J., and Shin, H.-S.: "Method for Modification of Doppler Centroid of Synthetic Aperture Radar Image", Korea patent application No. 2013-0024690, referred on March 07, 2013.
• Jung, H.-S., Lee, D.-T., Lu, Z., Won, J.-S., Park., Y.-J., Choi, J.-W., and Goo, S.-H.: "Method for correction of lonspheric distortion of synthetic aperture radar interferogram and apparatus thereof", Korea patent application No. 2012-0156644, referred on December 28, 2012.
• Jung, H.-S., and Oh, K.-Y.: "System of automatic geometric correction using rational polynomial cofficient and method thereof", Korea patent application No. 2012-0043031, referred on April 25, 2012.
• Jung, H.-S., Lee, K.-J., Kim, Y.-S., Oh, K.-Y.: "Method for data fusion of panchromatic and multi-spectral images and apparatus thereof", Korea patent application No. 2012-0027167, referred on March 16, 2012.
• Jung, H.-S., and Lu, Z.: "The method for measuring object's velocity using synthetic aperture radar image and the apparatus thereof", Korea patent registration No. 10-1135070, referred on April 03, 2012.
• Won, J.-S., Jung, H.-S., Lu, Z., and Kim, S.-W.: "The method for three-dimension measurement and the apparatus thereof", Korea patent registration No. 10-1111689, referred on January 26, 2012.
• Won, J.-S., and Jung, H.-S.: "Method and apparatus of correcting geometry of an image", USA patent registration No. 7,778,534, referred on September 17, 2010.
• Won, J.-S., and Jung, H.-S.: "Method and apparatus of correcting geometry of an image", Japan patent registration No. 4448187, referred on January 29, 2010.
• Lee, D.-C., Jung, H-S., and Lim, S.-B.: "Method of automatic extraction of building bound aries using airborne LIDAR", Korea patent registration No. 10-2009-0021103, referred on June 7, 2010.
• Jung, H.-S., and Lu, Z.: "The method for measuring object's velocity using synthetic aperture radar image and the apparatus thereof", Korea patent registration No. 10-2009-0117256, referred on November 30, 2009.
• Won, J.-S., Jung, H.-S., Lu, Z., and Kim, S.-W.: "The method for three-dimension measurement and the apparatus thereof", Korea patent registration No. 10-2009-0105687, referred on November 03, 2009
• Won, J.-S., and Jung, H.-S.: "Method and apparatus of correcting geometry of an image", Europe patent registration No. 06,783,697.3, referred on December 3, 2008.
• Jung, H.-S., and Won, J.-S.: "Method of Automatic geometric correction for linear pushbroom image", Korea patent registration No. 10-870894, referred on November 21, 2008.
• Jung, H.-S., Lee, D.-C., and Yom, J.-H.: "Method of Automatic extraction of building boundary from LIDAR data", Korea patent registration No. 10-0857529, referred on September 2, 2008.
• Jung, H.-S., Won, J.-S., Hong, S.-H., Lee, C.-W., Lee, Y.-K., Park, J.-W., Choi, J.-H., and Eom, J.-A.: "Method for restoring defective lines in pushbroom image", Korea patent registration No. 10-0850023, referred on July 28, 2008.
• Won, J.-S., and Jung, H.-S.: "Method and apparatus of correcting geometry of an image", World patent registration No. 06,783,697.3, referred on September 27, 2007.
• Jung, H.-S., and Won, J.-S.: "Method and apparatus of geometric correction of image using LOS vector adjustment model", Korea patent registration No. 10-0762891, referred on September 21, 2007.
• Kim, S.-W., Jung, H.-S., Won, J.-S., Hong, S.-H., Park, D.-Y., and Kim, S.-S.: "Method of correcting the orbit of SAR image", Korea patent registration No. 10-0594969, referred on June 22, 2006.
• Jung, H.-S., Lee, S.-G., Won, J.-S., and Kim, H.-J.: "Method of producing the yard age book", Korea patent registration No. 10-0569629, referred on April 4, 2006.
• Jung, H.-S., Hong, S.-H., Won, J.-S., and Kim, H.-J.: "Method of generating orthoimage for aerial-photo", Korea patent registration No. 10-0544345, referred on January 11, 2006.
• Won, J.-S., Jung, H.-S., Hong, S.-H., Park, D.-Y., Lee, C.-W., Kim, S.-W., and Kim, S.-S.: "apparatus and method of DEM generation using synthetic Aperture Radar(SAR) data", Korea patent registration No. 10-0529401, referred on Nobemver 10, 2005.
• Kim, S.-S., Jung, H.-S., Kim, S.-W., Won, J.-S., Lee, C.-W., and Jung, H.-C.: "Method for correction Geometry of Pushbroom image using Solidbody Rotation model", Korea patent registration No. 10-0520275, referred on October 4, 2005.
• Kim, S.-S., Jung, H.-S., and Won, J.-S.: "Method for detecting dead detector in pushbroom image for digital map and image map", Korea patent registration No. 10-0507352, referred on August 1, 2005.

International Proceeding Articles

• Lee, W.-J., and Jung, H.-S., 2015, An efficient offset-tracking method for surface displacement observations with interferometric SAR data, Taiwan, International Symposium on Remote Sensing 2015.
• Park, S.-H., and Jung, H.-S., 2015, Topographic Correction Using Landsat Image: Application To Mt. Kilimanjaro, Taiwan, International Symposium on Remote Sensing 2015.
• Baek, W.K., Jung, H.-S., Lee, W.-J., 2015, Measurement of ground subsidence in the World cup park, Seoul, Korea from multi-temporal SAR images, Taiwan, International Symposium on Remote Sensing 2015.
• Chae, S.-H., Lee, W.-J., and Jung, H.-S., 2015, Variations of Glacer Velocity on Novaya Zemlya using SAR Offset Tracking, Taiwan, International Symposium on Remote Sensing 2015
• Yoon, S.-H., Owen, S., Milillo, P., Hudnut, K., Mccrink, T., Jo, M.-J., Manipon, G. J., Agram, P., Moore, A., Jung, H.-S., Milillo, G., Rosinski, A., 2014, Rapid response products of the ARIA project for the M6.0 August 24, 2014 South Napa Earthquake, USA, 2014 AGU Fall Meeting
• Jo, M.-J., Yoon, S.-H., Jung, H.-S., Jung, H.-I., Go, Y.-C., Webb, F., 2014, Measurement of along-track displacements due to the M6.0 August 24, 2014 South Napa Earthquake using X-band Multiple-Aperature SAR Interferometry, USA, 2014 AGU Fall Meeting
• Kim, J.-C., Park, S.-H., Jung, H.-S., 2014, Snow cover correlation between Mt. Villarrica and Mt. Llaima in Chille, China, SPIE Asia-Pacific Remote Sensing 2014
• Park, S.-H., Jung, H.-S., 2014, Time-series monitoring result of land surface temperature variation at Mt. Baekdu using Landsat Images, China, SPIE Asia-Pacific Remote Sensing 2014
• Park, S.-H., Jung, H.-S., Lee, M.-J., 2014, Analysis of snow cover variations at Mt. Kilimanjaro from multi-temporal Landsat images, Korea, URBIO 2014
• Jo, M.-J., Jung, H.-S., Won, J.-S., Poland, M.P. and Miklius, A., 2014, Measurement of three-dimensional surface deformation of the March 2011 Kamoamoa fissure eruption, Kilauea volcano, Hawaii, USA, 2014 IEEE International Geoscience and Remote Sensing Symposium. (Best Paper Prize Awarded)
• Lee, W.-J., Jung, H.-S., 2014, Accuracy Improvement of L-band Multi-Temporal SAR Interferometry by Ionospheric Correction in Southern California, Canada, IEEE International Geoscience and Remote Sensing Symposium 2014
• Lee, W.-J., Jung, H.-S., 2014, An improvement of L-band ALOS PALSAR multi-stacking method by ionospheric correction, Korea, ISRS 2014 ICSANE (Student Prize Awarded)
• Park, S.-H., Jung, H.-S., and Shin, H.-S., 2014, An improvement Time-series Monitoring of Volcanic Activity at Mt. Baekdu using Landsat Thermal Infrared Images, Korea, ISRS 2014 ISCANE
• Kim, J.-C., Kim, D.-H., Park, S.-H., and Jung, H.-S., 2014, Application of Snow Cover Changes as an Indicator of Volcanic Activity at Mt.Villarrica and Mt. Llaima, Chile, Korea, ISRS 2014 ICSANE
• Oh, K.-Y., Jung, H.-S., and Lee, H.-S.,2014, An Improved Component-subsititution-based Image Fusion Approach, Korea, ISRS 2014 ICSANE
• Wu, Z., Jung, H.-S., and Ding, X., 2014, A Study of Ionospheric Scintillataion on InSAR over Hong Kong, Korea, ISRS 2014 ICSANE
• Jo, M.-J., Jung, H.-S., and Won, J.-S., 2014, Measurements of Land Subsidence at Noksan Industrial Complex in Busan, Korea, using Multi-temporal InSAR and MAI Observation, Korea, ISRS 2014 ICSANE
• Jo, M.-J., Jung, H.-S., Won, J.-S., Poland, M., Miklius, A., and Lu, Z., 2013, Advanced Observation of Multi-temporal Multiple Aperture SAR Interferometry (MAI) to Measure Slow-Moving Surface Deformation, Japan, International Symposium on Remote Sensing 2013.
• Oh, K.-Y., and Jung, H.-S., 2013, Automatic geometric correction of Kompsat-2 stereo scenes using DEM, USA, ASPRS 2013 Annual Conference.
• Jung, H.-S., Liu, Z., and Lu, Z., 2012, Joint Correction of Ionospheric Artifact and Orbital Error in L-band SAR Interferometry, USA, AGU 2012 Fall Meeting.
• Weston, J. M., Jung, H.-S., Funning, G. J., and Ferreira, A. M., 2012, Integrated Analysis of the 12th January 2010, Mw 7.0, Haiti Earthquake Using InSAR, MAI, GPS, and Seismic Data, USA, AGU 2012 Fall Meeting.
• Oh, K.-Y., and Jung, H.-S., 2012, Automated geometric correction of kompsat-2 stereo pairs using Digital Elevation Model, Korea, International Symposium on Remote Sensing 2012.
• Park, S.-H., Jung, H.-S., Lee, M.-J., and Jung, H.-C., 2012, Observation of Snow Cover
• Variations at Mt. Kilimanjaro Using Landsat TM and ETM+ Images, USA, AGU 2012
• Fall Meeting